Commercial Design Concepts
Seaside Bank Orlando is a conversion of a 1980s era downtown existing bank space.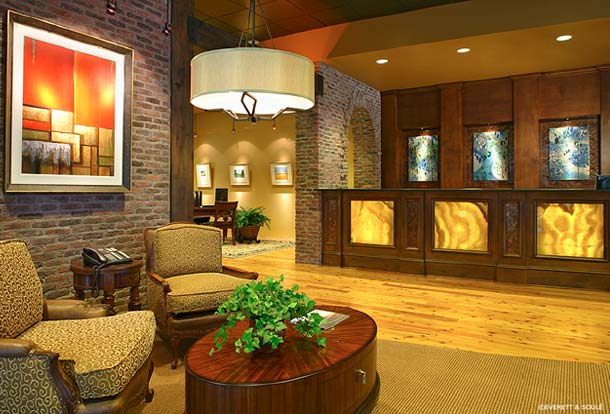 For the commercial design concept, Seaside requested a comfortable warm feeling, reflective of historical downtown Orlando. A space  where customers would feel comfortable just dropping by for a cup of coffee.  The design works around existing dropped soffits that needed to stay in place for the existing air conditioning duct work.
I selected reclaimed brick and warm golden knotty pine floor planks that are reminiscent of 1920s downtown commercial lofts.  I designed the concierge counter to work with the existing dropped soffit.  I combined backlit honey onyx panels, with hammered copper and a rich stained wood to create interest.  Custom art panels are mounted on hammered copper wall insets.  The furnishings, art, and lighting are by other design team members.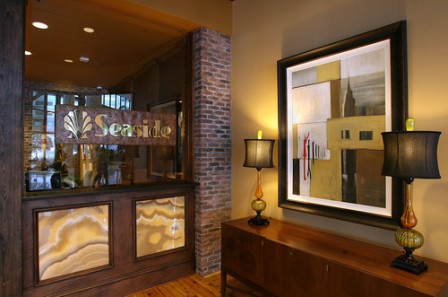 A custom sign on a hammered copper panel is mounted on the clear glass side panel of the concierge desk. For this project, CHDI was involved with the space planning, all material selections, and built-in design details.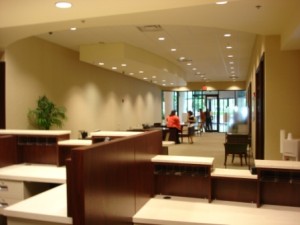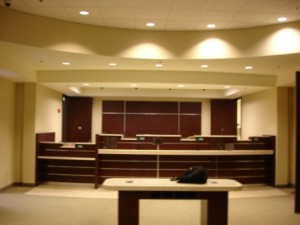 Existing ceiling dropped soffits were incorporated into the new design.  Do you see the difference in warmth by changing materials and colors?  The design team  took the space from sterile to embracing.  The "old School" teller desks are tall to hide the old full-size computers.  Notice how changing the scale and using a natural wood creates a more comfortable space for the client.  The brick wall is in the same location as the original back wall.  Part of the existing dropped soffit remains for mechanical systems.  Existing walls to the street side were removed to bring in natural light.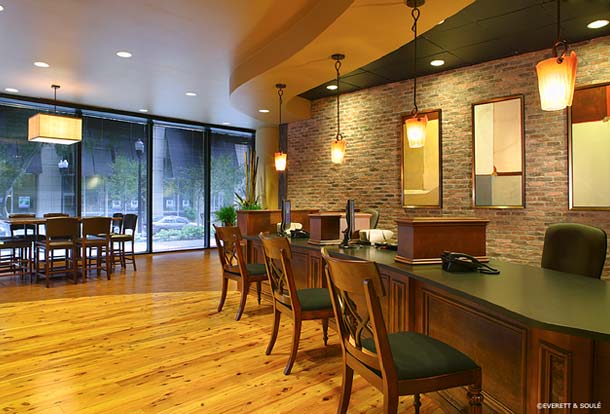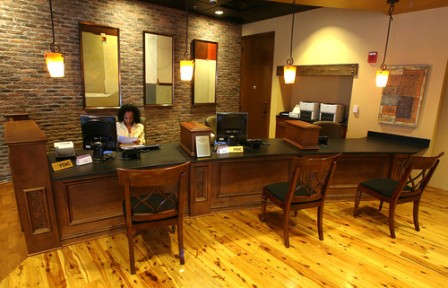 Concept sketch for a new enclosed office space between the concierge desk and teller area.  Loft style I-Beam corners with sliding glass panel wood stained "garage doors."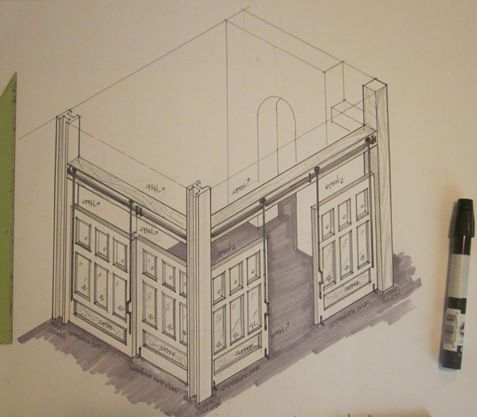 Susan Berry provides consulting for commercial design concepts.  She does not practice commercial architecture.  Classical Home Design, Inc. often creates interior theme concepts for corporations, interior designers  and state licensed architects for them to incorporate into their construction documents.  Please contact us for your design needs.
Seaside National Banks themes the design of each individual branch to reflect the architectural style of each cities location.  CHDI has created themed details for several locations for commercial builder Castleworks, Inc. and their team of architects and designers.  All photos are courtesy of  the builder, Scott Green of  Castleworks, Inc. 
Many of our clients work with architectural firms who are brilliant with construction documents but do not have a full-time designer on staff with historical styles or theme environment experience.  That's where we come in.
We enjoy joint ventures and are always available to discuss your ideas or  join your project team.
Please either call Susan Berry directly at 407-310-3663 or use our contact form.